Have you been to the Nespresso store in Regent Street? You ought to try it.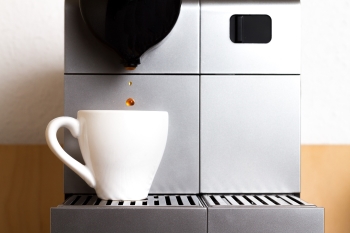 The first time I walked in there, I had a coffee and bought one strip of pods (no. 11, I don't do their names). In other words, I had enjoyed a free coffee, parted with a mere £3.50 for their merchandise and left the store having been treated like royalty. What else?
I mean, what ought one expect of a luxury store selling a luxury beverage, the means to brew it at home and offering their clientele the opportunity to sample the delights they provide, no strings attached? What else, indeed?

As the saying goes, it doesn't have to be that way. But it leaves a standard to aspire to.
Stepping back from waxing lyrical for a moment, we are looking at a well-known business model where the money is made through the repeat sale of consumables for a machine that ensures the repeat purchase of said consumables. Just like inkjet printers, only at the luxury end of the market. Quality of product and quality of service leave their punters no choice but to want to come back for more.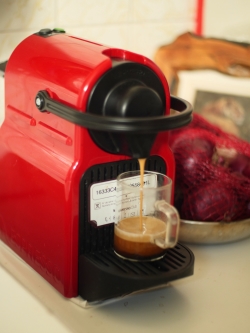 That it is not always that way became very clear a couple of days ago when I sped off to my local shopping centre where Nespresso, fortunately, have a stand. The sole reason for this hasty excursion was to stock up on my monthly supply of morning and afternoon delight, 40 or 50 pods of the really strong stuff (a selection of 11 and 12). Heaven at the press of a button.
Luck had it that there were no other customers in sight. I headed straight for the coffee bar, asked for an espresso and was about to mention that while I imbibed I also wanted my month's supply of the black nectar.
Instead of requesting my membership number, which they are wont to do and I never remember, I usually satisfy them with my email address, the one male member of staff in attendance first patronised his female colleague and then condescendingly proceeded to lecture me on the subject that this was not a coffee shop where you could just walk up and ask for a coffee.
Sorry, not a coffee shop where one could ask for a coffee? Never mind.
Alas, he had picked the wrong person for his peacockery. For the last 4 months or so, I had been labouring over my video series that is all about how we have to put our clients first, how we have to engage them, connect with them and build trust.
In a nutshell, as I was in no mood to be lectured by this male chauvinist ignoramus, I stopped the flow of his verbiage by telling him that he was beginning to p**s me off and left in a huff as he continued his soliloquy.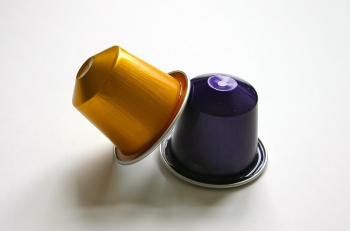 Yes, I know, nose cut off despite my face and all that, as I was now left with only 3 little coffee pods at home and no alternative Nespresso store in sight. I don't live near Regent Street. Looming despair notwithstanding, I decided that I was and always will be at liberty to leave my hard earned money where I'm treated the way I deserve, especially by an upmarket coffee shop like Nespresso.
In all fairness, I never expected quite the same level of service at a stand in a shopping centre as in the Regent Street store but being treated like an imbecile was taking it quite a number of steps too far. And, yes, I have now stooped to drinking a compatible brand sold by a well-known supermarket. Don't ask.
What is the point of this story?
It is about brand image, reputation management and social media.
Taking another step back from this tale of woe inflicted on my suffering taste buds, we just saw how one false move killed a customer. The coffee machines don't generate the revenue, the consumables do. If this makes waves, will it create another Gerald Ratner effect?
I decided on a little case study. Just for fun.
Back home, a couple of hours later, I tweeted.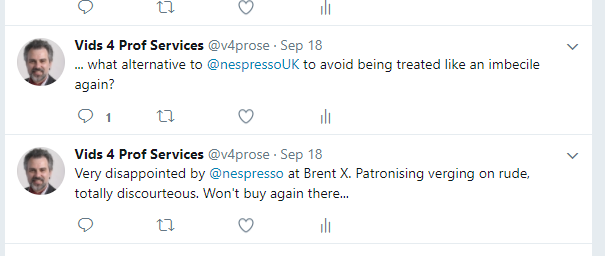 Two little tweets joined by three little dots. Thanks, POTUS.
And now the tale of brand damage limitation kicked in.
Checking my phone the morning after, I discovered a response from @NespressoUK posted on the same day: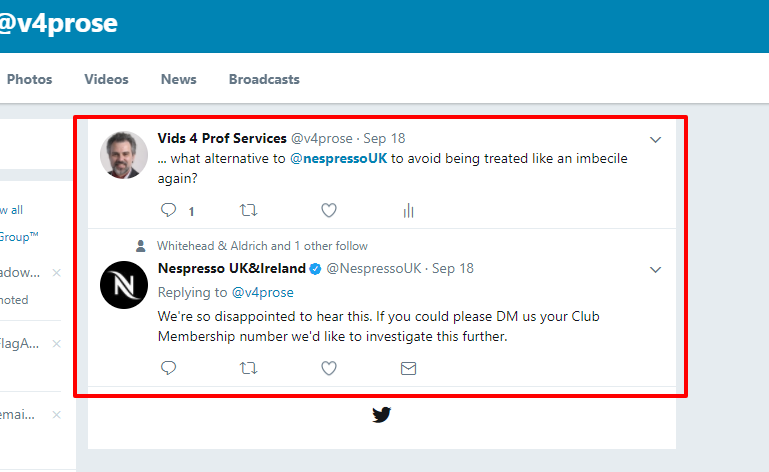 I responded and they were quick to follow up every time: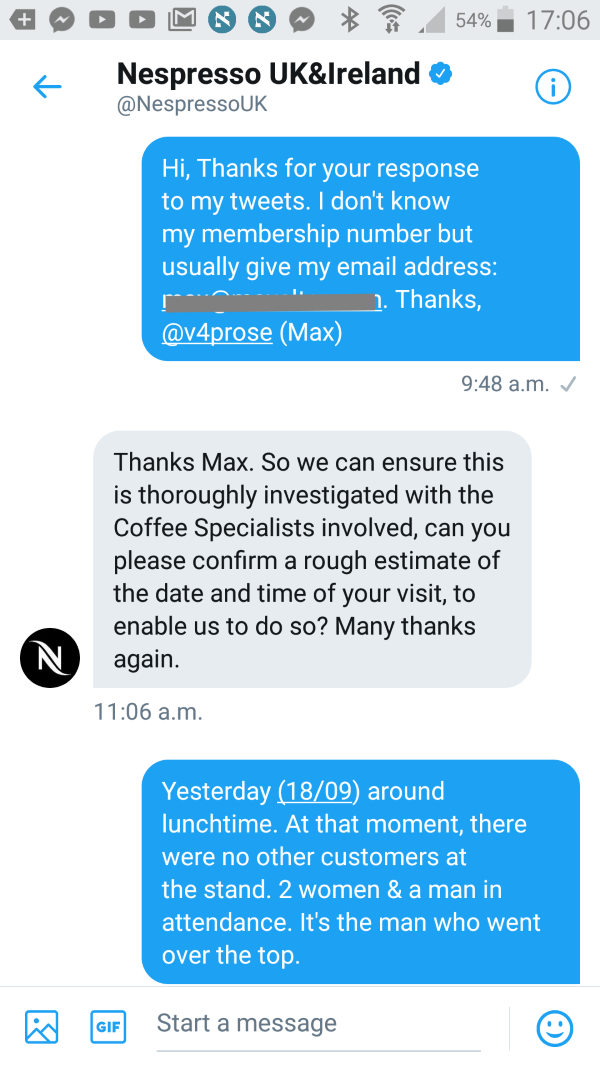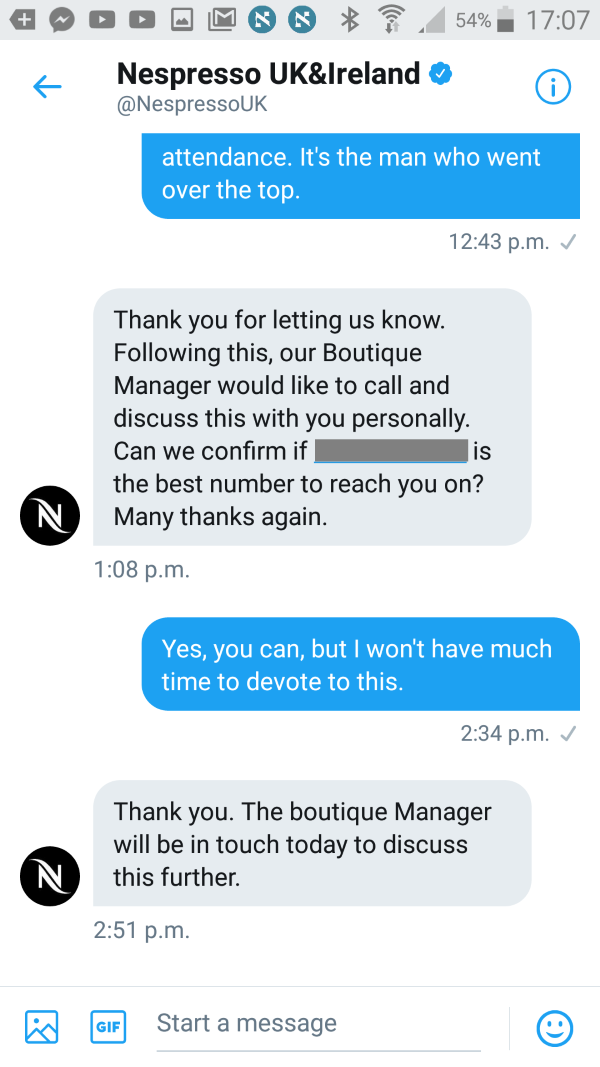 By 4.30 pm, the Assistant Boutique Manager of the establishment at the shopping centre had called, apologised, assured me that the culprit had realised already on the day that he had put a foot wrong. The ABM (he had proffered his name) offered personally to compensate me with pods upon my next visit to their establishment.
I am impressed. A multi-national corp. kept an eye on their online reputation and reacted immediately. Any delay was due to me.
Sure, they are big, they have the resources. But the ethos seems to be that even just one disgruntled customer among their millions is one too many. Do we keep an eye on our businesses like that?
One more question while I'm at it:
Could they have done better? Basically, no. Or, perhaps, yes.
Let's pick a nit: I had told the ABM that I don't usually visit this shopping centre (as my daughter started uni this week, the services of my flexible friends are no longer required to accompany her on outings on a regular basis). As they have my contact details, there is still one thing the local hero could have done. To be sure, this would have gone far beyond the call of duty and completed a truly company-wide royal level of service. He could have offered to mail the compensatory peace offering. What else?
Picking this last nit was only for the sake of completeness. As it stands now, I am happy to accept the apology. I also did not want to fail to alert everyone to this exemplary case study of the power of insistence on an exceptionally high level of customer service and on reputation management in the face of even only a couple of tweets by one isolated local customer.
What did it get them?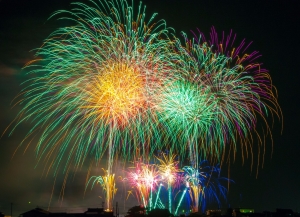 Recognition in a public forum and exposure of the company ethos potentially to tens of thousands of current and prospective customers.
Nespresso are on the ball. Chapeau. How many of us can say the same about our services, follow up and attention to detail?